Software Question
---
Programs of Software inventory - my advices and reccomendations
Hi, all
I fond software license inventory for small organization like accounting firm. Of course, I search in google most popular of them, read reviews and separated next variants of inventory management software:  inFlow Inventory, AdRem NetCrunch, Softwar inventory audit from Spiceworks, Total Network Inventory 3. After detail analytics I download just 2 of this list: inFlow Inventory and Total Network Inventory 3.
First program can download for free. Is a freeware related to trade inventory. The free edition even offers multiple users access to data in a read-only format. Support is in the form of quick-start guides and tutorial videos, and the site also offers help forums and a direct contact support option.
About Total Network Inventory 3. This software asset management give possible to track the software presence on specific devices. Merge different versions of the same software. Use regular expressions to improve search results. But this software not free like previous case.
So, I choose the second variant for my business. And I want to explain why. Next I'll write my overview and show some screenshorts.
Total Network Inventory program for hardware inventory and network components, as well as installed computers software. To browse the network, the geography of which is limited to one building, and the number of jobs - ten, is not difficult. However, in large networks, inventory is a costly process, both from the point of view of time and money. It is here that the application of Total Network Inventory is the most justified.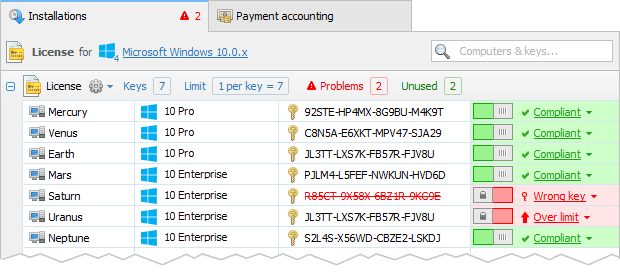 The program scans the space network and detects all PC based Windows, Linux and Mac OS without having to install a client application on each of the computers on your network, you need only the admin password. While Total Network Inventory not only creates an exhaustive list of the computers on the network with detailed hardware configuration, but also conducts an inventory of installed software, including availability and relevance of the licenses.
All the data is stored in a separate folder on your hard drive, where you'll find a small file for every network device that you've scanned. This structure is designed for the easy moving, sharing, or archiving of your inventory data. You can group your computers, attach comments, and inventory numbers or all kinds of other information to them.
On offisial site I learned that TNI 3 is a major upgrade. There are many beautiful things.
New accounting Module of software and licenses (Software Asset Management — SAM).

New scanning technology of iron: the collected information was much more detailed and accurate.
A number of less noticeable improvements and fixes.

I advice Win8 as best soft for this program. On Win 7 swears on wininet.dll (can't access it). What not tried, what rights she was not given any. And on win Xp starts but after selecting the store hangs, you can only remove Manager.
I invite all for discussion about software inventory, and programs or serviсes for tracking.
I will waiting yours comments and reviews.
Thanks
---
Be the first to answer this question