Visit us at Educause to learn how you can reduce the time spent on reimaging projects by 60%

Aoife O'Driscoll | October 22, 2018
It's time once again for Educause, which is taking place in October 31 – November 1, 2018, at the Colorado Convention Center in Denver  Our team of experts will be there to talk through some of the endpoint management challenges you're facing in the education sector. 
Join us in booth #131 to learn how only with Quest unified endpoint management (UEM) solutions can you see, move and protect your growing endpoint environment, so you can:
Gain visibility into your network with automated discovery and inventory 
Safeguard your network with up-to-date patching and vulnerability scanning
Streamline your move to Microsoft Windows 10, and simplify your summer reimaging projects with zero-touch OS deployment
Become an IT Ninja with KACE
Speaking of IT challenges. While you're at Educause, don't miss your chance to get acquainted with Nick the IT Ninja.  Find out how KACE can help you master the endpoint management challenges that many educational institutions struggle with, including:
Endpoint visibility – With Bring Your Own Device (BYOD) and Internet of Things (IoT), getting a line of sight into what endpoints are on your network from servers to Windows-based computers, Mac-based computers, Chromebooks, mobile devices and a wide array of connected, non-compute devices, is a challenge.
Endpoint security – For every device that connects to your network, there is likely someone out there trying to exploit that connection to access your institution's data via malware, ransomware and other methods.
Summer reimaging projects – Aside from migrating to Windows 10, most schools need to reimage their endpoints every summer to get ready for new students arriving for the next school year, which is costing you valuable time and resources.
Check out the Nick the IT Ninja video to get a sneak preview on how you can become an IT Ninja with KACE.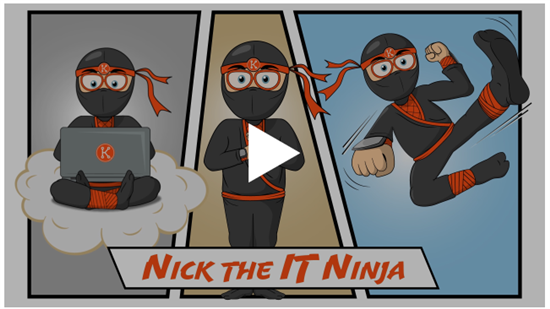 Come to the stand and take a pic with Nick to get your limited edition Nick the IT Ninja T-shirt. You can also get your hands on some bouncy balls and other cool Quest swag.  
Hands-on demonstrations
You will also have a chance to speak with KACE product experts and address any challenges that you are facing around endpoint management, as well as get an in-depth view of how KACE can help you address these issues and save you time.
Promotional Pricing
We understand that time, resource and budget is precious. To help with challenging budgets, we have a special pricing promotion to help you address endpoint challenges that'll give you room to grow as your educational institution's headcount increases, regardless of whether you need 5,000 or 15,000 licenses — the license cost remains the same.
Our KACE EDU special pricing includes the following products:
KACE Systems Management Appliance (SMA) automates complex administrative tasks, making it possible for you to inventory all hardware and software, patch mission-critical applications and OS, reduce the risk of breach, and assure software license compliance.
KACE Systems Deployment Appliance (SDA) makes it possible to quickly and easily automate large-scale system deployments while simplifying migrations of multiple operating systems.
Looking forward to seeing there!!!
To register for more information, or talk to a Quest sales representative, click on the link below :